Thompson Rivers University (Kamloops, British Colombia)
Thompson Rivers University offers Juris Doctor, master's and bachelor degrees as well as college, technology, open learning, and English language programs.
Fourth largest public university in British Columbia
One of six research universities in British Columbia
NWCC Candidate for Accreditation
Facts:
Founded in 1970
public, degree-granting university
13,000 students
17,000 distance students
and over 2,000 international students from 85 countries
Five Great Reasons to Choose TRU:
A wide range of programs
A clear admissions path
Work and study opportunities
Individual support to help you succeed
Programs that open doors to new opportunities
Kompletní výčet kurzů a druhů ubytování naleznete v dalších sekcích, případně Vám je poskytneme v našich kancelářích.
At Thompson Rivers University, student success is our priority.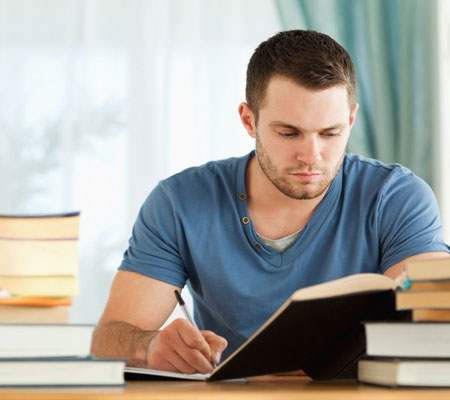 We empower our students to reach their goals with flexible learning options and individualized student services.
For 45 years TRU has taken pride in providing an excellent education to every student that comes to us from a wide variety of backgrounds and perspectives, at various stages of the learning journey.
Research, creation and innovation thrive in our open, flexible learning environment. And so do our students.
Thompson Rivers University nabízí přípravu v anglickém jazyce, Diploma a jak bakalářský tak magisterský stupeň studia. Vybírat můžete z fakult:
Faculty of Adventure, Culinary Arts and Tourism
Faculty of Arts
School of Business & Economics
Faculty of Education and Social Work
Faculty of Law
School of Nursing
Faculty of Science
Faculty of Student Development
School of Trades & Technology
Our beautiful Kamloops campus offers a one-of-a-kind university community in the heart of the city, a place to live, work, learn and play.
Living on campus means being minutes away from your classes, enjoying easy access to campus and nearby city recreational facilities and belonging to an active community of students from across Canada and around the world. Do keep in mind that an application for campus housing is separate from an application to a TRU program.
TRU Residence:
Home to over 570 students, our modern, 11-storey student residence has some of the best views in the city. Each private bedroom includes a desk, chair, double bed, TV and overhead lighting. Floors are co-ed, but individual units are either all female or all male. Choose either a two- or four-bedroom suite.
The Tower includes: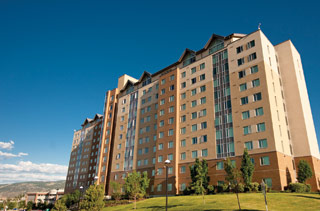 High-speed internet (wired and wireless), and cable TV
24-hour front desk reception
Security card access
Regular, planned social activities
Common lounges on most floor and larger kitchen areas on first, second, fifth and tenth floors
Lobby, patio with large BBQ, games room and large common area on first floor
24-hour fitness area
Storage and laundry facilities
McGill Housing
McGill Housing has 300 self-contained rooms, divided into 75 units, in three buildings. Each unit shares a kitchenette, a common area, and a washroom. All residents have access to a central building with study and recreation space. Each housing unit is assigned to four males or four female students.
McGill Housing units include: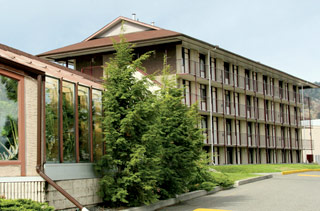 Rooms with private outside entrances, some with city views
A bed, desk, sink, kitchen with microwave, and fridge in each room
24-hour front desk reception
A central building with kitchen facilitites, card-operated laundry, bike storage, mail, big-screen TV and seating area, barbecue, deck, pool tables, free wireless internet and a study area
Regular, planned social activities
On-site management and 24-hour security
Easy access to shopping two blocks away
Homestay — Living with a Canadian Family
Our homestay program allows students to live with Canadian families, be exposed to, and participate in Canadian culture and customs.
TRU has a well-established network of experienced host families. TRU staff have personally inspected each home and have interviewed the family to ensure quality homestays.
TRU has offered this program for over twelve years.
We place only one international student with each homestay family. The family provides a private, furnished bedroom and three meals each day, plus snacks.
Students can usually expect to travel about 20-30 minutes between their homestay and the TRU campus.
Undergraduate Programs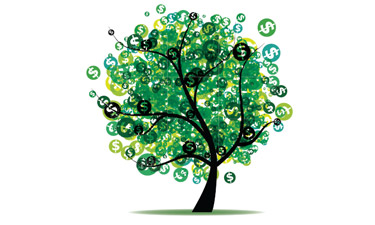 Graduate Programs
Master of Business Administration
Master of Education
Master's Degrees in Environmental Economics and Management
Master of Nursing
Master of Science in Environmental Science
Graduate Diploma in Business Administration
Graduate Certificate in Educational Studies
Trades Program
Automotive Service Technician
Carpenter
Electrical
Heavy Mechanical
Horticulture
Plumbing, ets.
Study English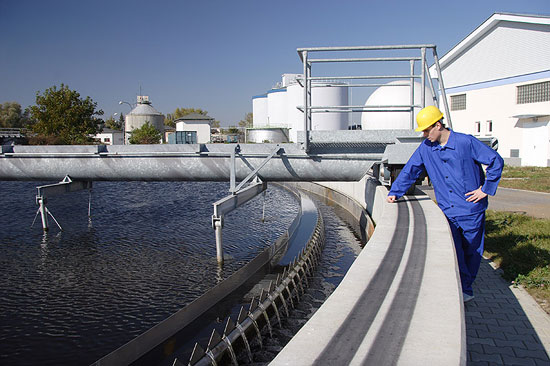 Community Programs
Adult Basic Education
Continuing Education Courses
Trades Courses & Professional Driver Training
Water and Wastewater Treatment
Child and Youth Camps