Westcliff University was established to provide quality education for students wishing to enter the fastgrowing fields of Business and Education.

University offers various programs in the College of Business and the College of Education.
Westcliff University's curriculum consists of graduate and undergraduate degree programs in business and education as well as other certificate programs.
Westcliff University prepares students for the practical and theoretical elements required in the job market today.
Westcliff University offers full-time working students a chance to enroll in innovative online and hybrid distance education courses that are convenient and affordable.
Westcliff University emphasizes the importance of preparing students personally, academically, and professionally.
To ensure its programs are innovative, up-to-date, and of high quality, the university has guidance and expertise from members of its Board of Trustees and Program Advisory
International students are advised to begin the admission process as early as possible prior to the time they wish to enter Westcliff University because of the tests required, delays in international mail, etc.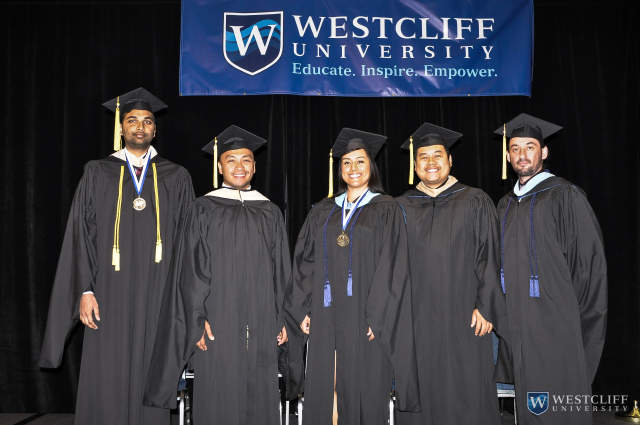 WESTCLIFF UNIVERSITY VISION
Westcliff University aspires to become recognized for its student-centered education, preparing, inspiring, and enabling students to succeed in a quickly changing world.
University envision becoming a well-respected and innovative educational institution, both in the US and abroad,reflecting not only the nature of our academics but
also the respected actions of our students in their professional and personal lives.
WESTCLIFF UNIVERSITY MISSION
Westcliff University's mission is to educate, inspire, and empower students from around the world to acquire the competencies to excel personally and professionally through innovative, high-quality distance and campus programs.
WESTCLIFF UNIVERSITY CORE VALUES
Honesty
Integrity
Mutual Respect
Personal Accountability
Social Responsibility
Global Citizenship
Inclusion
Pro více informací (nabídku kurzů, nabídku ubytování), kontaktujte přímo Alfa Agency.
College of Business
The Westcliff College of Business offers undergraduate and graduate degrees in Business Administration. The BBA, MBA and DBA degrees are meant for working professionals who want to further their careers in business, whether they are pursuing jobs in management, leadership, and consulting or wish to become business entrepreneurs themselves.The cornerstone of a Westcliff University business degree is the development of analytical reasoning skills that are immediately applicable to the real world.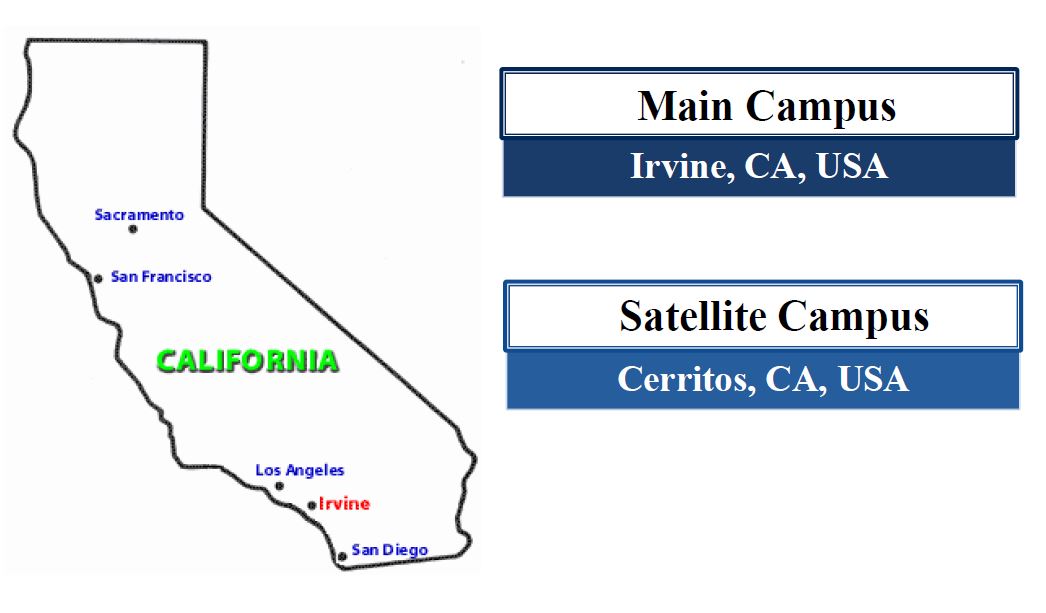 Our students graduate with the ability to critically assess a company and its challenges, and to generate creative solutions that are grounded in business principles.
Bachelor of Business Administration (BBA)
Our Westcliff Business Degree (Bachelor of Business – BBA) program, whether taught via online or hybrid platform, leads undergraduate students onto the next step in their business careers. At Westcliff University, BBA students become knowledgeable about a wide variety of disciplines, including finance, accounting, marketing, operations, sales, and information technology.
Equally important, we teach business from a global perspective. Our curriculum focuses on companies based both in the U.S. and abroad.
Students also learn how to present their ideas professionally so that hiring managers really see what they have to offer. Learning how to think critically, analyze data, and problem solve are integral components to an Westcliff Business Degree (Bachelor of Business BBA) degree.
Masters of Business Administration (MBA)
The Westcliff MBA program prepares you for a career in management or entrepreneurship. At Westcliff University you will
Work in diverse teams, make presentations, and lead case study analyses
Build a foundation in management principles
Develop your ability to think critically and problem solve creatively
Take advantage of workshops and guest speaker presentations, offered throughout the year on both online and hybrid programs.
Network with students and faculty working in a wide range of industries
Equally important, you will learn from professors who are senior managers or business owners.
Doctor of Business Administration (DBA)
The Doctor of Business Administration (DBA) is designed for candidates who, having already completed a Masters program, are looking to further develop their practical and theoretical knowledge of the principles that govern global business. Students have the opportunity to explore challenges facing business today, including corporate social responsibility, globalization, and managing change. In keeping with our commitment to working adult professionals, we have one of the few doctoral programs in Southern California that allows students to complete their doctoral studies in a hybrid or online format. The performance outcomes which are required for the completion of the program include: class participation, response to discussion questions, writing research papers, group assignments, case study analyses, quizzes, mid-term and final examinations (Comprehensive Learning Assessments), and a Doctoral Final Project/ Dissertation.
College of Education
Bachelor of Arts in Education (BAEd)

Master of Arts in Teaching English to Speakers of Other Languages (MA TESOL)
MA TESOL Program produces graduates with the skills to train teaching faculty who excel in their roles as educators, creative scholars, and researchers. This program will prepare teachers for a wide variety of positions both in the US and abroad. Our students will be equipped with the specialized knowledge and field skills for teaching English to speakers of other languages. Upon graduation, they will be competent professional educators with demonstrable leadership skills.
The performance outcomes which are required for the completion of the program include: class participation, response to discussion questions, writing research papers, group assignments, case study analyses, quizzes, mid-term and final examinations (Comprehensive Learning Assessments).
MA TESOL Program (36 credit hours)
TSL 502 Vocabulary Instruction - 3 credit hours
TSL 507 Pronunciation Instruction - 3 credit hours
TSL 512 Writing Instruction - 3 credit hours
TSL 515 Second Language Acquisition - 3 credit hours
TSL 520 Grammar Instruction - 3 credit hours
TSL 527 Methods of Teaching ESL/EFL - 3 credit hours
TSL 532 Listening & Speaking Instruction - 3 credit hours
TSL 542 The English Language in Society - 3 credit hours
TSL 545 Reading Instruction 3 credit hours
TSL 552 Special topics in TESOL - 3 credit hours
TSL 590 Curriculum Design - 3 credit hours
TSL 600 Practicum - - 3 credit hours
Total MATESOL program 36 credit hours

College of Business
"The expertise of the Professor, the perfect materials we are using, the perfect set up of getting education-not requiring studnt to come to school as often as needed but have trusted the student that we are faithfully studying and giving our best to educate ourselves by working on the assignments given to us. Indeed the questions raised make me gauge myself if I am learning or still lost. Thank God I am happy because each day, I can tell myself, Faith, you are becoming better and better, soon when you get a job, you will be one of the most ideal and successful leader in the world you are living in"
-Faith Orillaza, MBA student
BUS 500 – Summer 2016
"Our professor is friendly and always supports our study."
– Uyen thi Diem, MBA student
BUS 500 – Summer 2016
"I have enjoyed this subject, I guess because it was a good timing for me as I am starting my business. I was able to write a business plan under the supervision and consultation of one of the best educator and a role model enterprenuer that I have learned a lot from."
– Nadia Hassen, MBA student
BUS 557 – Spring 2016
College of Education
"It enables me as a teacher to become a better knowledgeable teacher as it exposes me to vital information and teaches me ways to deeply connect, understand my students needs [both grammatical knowledge and ability] in my classroom teaching and better my students learning."
-Chinyere Ikpoh,MA TESOL student
TSL 520 – Spring 2016
"The best things is the online discussion. I improved my critical thinking, reading speed, typing as well as composing essays. Also, I learned a lot of precious knowledge and experience from my instructor and classmates. Finally, the GAP really became a friendly place for us to share ideas and fasten friendships."
-Anh Nguyen Hoai, TESOL Certificate
"This course make students work under pressure so when they graduate and work as a teacher. They can work well and do not feel stressed or want to quit the job. In addition, instructors in this course is very professional that convey various knowledge to students."
-Hanh Nguyen Hong, TESOL Certificate