Přemýšlíte o aktivní letní dovoléné? Rádi byste vyslali své děti na jazykový pobyt do zahraničí, ale cítíte, že na to možná nejsou věkem dost vyzrálé? Nebo přemýšlíte i Vy (rodiče) o letním jazykovém kurzu sami pro sebe? Proč to nespojit a nevyjet na společnou rodinnou jazykovou dovolenou?
Právě pro Vás jsme pro nadcházející letní sezonu připravili řadu rodinných jazykových pobytů v zahraničí. Pobyty jsou určeny pro rodiče a děti ve věku od 4 do 18 let.
Jazyková výuka:
Děti mají na zahraniční škole připravenou každodenní jazykovou výuku a řadu organizovaných sociálních a sportovních aktivit. Rodiče mohou absolvovat jazykovou výuku také nebo mohou "pouze" dovolenkovat a objevovat krásy dané lokality, třeba na Maltě.
Ubytování:
Rodiny s dětmi jsou ubytováni společně, buď v hostitelských rodinách, školních residencích nebo hotelu. Záleží na preferenci každé rodiny. Součástí je strava formou plné penze, polopenze, případně snídaně - zase dle volby účastníků pobytu.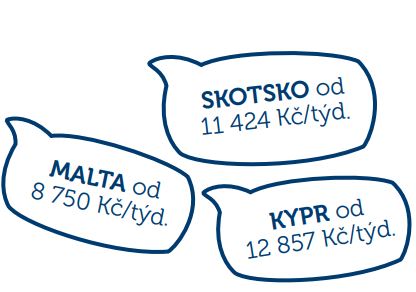 Dostupné destinace: Malta, Anglie, Skotsko, Irsko, Německo, Francie, Španělsko ...
Délka pobytu: 1 týden a více
Ceny od: 8 750 Kč / týd.
Vybrané pobyty naleznete na: www.alfaagency.cz/juniori (prakticky všechny naše školy, které pořádají pobyty pro juniory, nabízí i rodinné pobyty)
Z naší nabídky doporučujeme tyto školy: Gateway Malta ESE Malta GV Malta English Sunny School Kypr CES Velká Británie
Pro více informací kontaktujte:
Pavlínu Vlčkovou Tel.: +420 608 561 888 Email: pavlina.vlckova@alfa-agency.cz
Katalog rodinných a junior pobytů ke stáhnutí